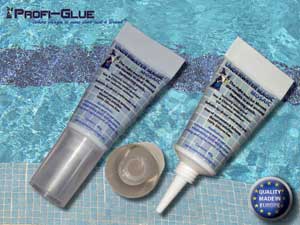 Underwater Magic Mosaic™
our solution for small jobs underwater like tile repair, replacement, grouting...
Underwater Magic Mosaic™ is a 1 component chlorine water resistant glue for small and minor repairs, which even seals underwater. It is odour free, it's free of: Oxime - acetic acid - isocyanate & solvents , 100% silicone free and Is not affected by: chlorine- & salt water, weathering and uv light.
Underwater Magic Mosaic™ is permanently elastic with good abrasion resistance and good mechanical properties. Temperature resistant from -40°C/°F degrees to +100°C / +212°F.
Underwater Magic Mosaic™ comes in a 60 g squees tube, no application tools needed, just use it like a toothpaste tube.
• No complicated mixing...
• No clouds in your pool...
• use it while your pool is in use...
• No silicone contamination
• Long lasting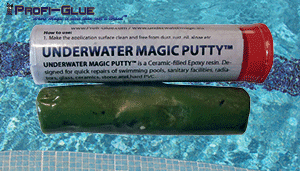 Underwater Magic Putty™
is a Ceramic-filled Epoxy resin. Designed for quick repairs of swimming pools, sanitary facilities, glass, ceramics, stone and hard PVC.
Application:
• Indoor and outdoor pools in full water contact.
• Repair in and around wet areas
• Fills cracks and holes up to 15 mm
• Temperature resistant up to +180°C and for short period
up to +300°C
• Extremely high Shore hardness D of 80 (concrete 60)
• Can be worked mechanically
Underwater Magic PUTTY™ is a very easy to use and useful for emergency repairs in industries, workshops, marine, construction in and around the house use.