It is pretty obvious that an empty pool is a dangerous whole in the ground and a massive loss of income for a commercial pool owner.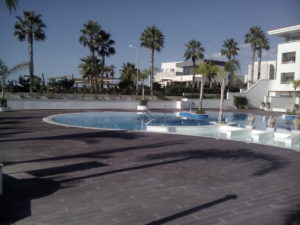 You are having a hotel and you have to announce that your pool is closed for repairs for 2 weeks or longer, you don't know when to schedule it to minimize the loss of income.
It is very lightly that guests will not book your hotel for the time the pool is empty and spent their holydays in another hotel nearby where the pool is ready to jump in.
The worst case scenario is that these guests are never coming back to your hotel ever because they liked the hotel of your competition.
What can be done to prevent emptying the pool when tiles are loose, expansion joint needs to be fixed or replaced or the pool is losing water because the skimmers are leaking etc…
The answer is very easy , the repair can be done directly underwater with Underwater Magic adhesive and sealant, the only proven product which adheres underwater and lasts for years to come.
The reason is Underwater Magic adhesive and sealant is the only product designed for swimming pools and the chemicals used in swimming pools.
The Underwater Magic team is constantly in contact with the pool chemical industry to make sure that Underwater Magic adhesive and sealant  is compatible with the latest technology in pool chemicals and sanitizing systems. It is up to you if you want to keep your pool open and your guests happy, besides fixing a pool underwater saves you thousands $/€/Peso…..
Check www.underwatermagic.eu and have a great and profitable season