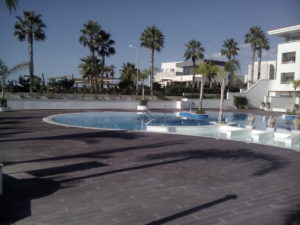 concrete pools require the most maintenance of any type of in-ground pool. You don't have to worry so much about your calcium levels in vinyl and fibreglass swimming pools but this is a very important factor when having a concrete or tiled pool. Water will leach calcium out of the surface of the pool and the grout lines if there is not enough calcium in the water, it causes further pitting, roughness, falling off tiles. Concrete-, Pebble-, Gunite pools need to be watched closely for cracks or loose areas, in a tiled pool look for missing grout lines and loose tiles, to find areas to be repaired as soon as possible in order to prevent further damages.
The pool water balance is a very important factor too, PH levels need controlled regularly depending on the usage pattern of your pool but at least twice a week in summer and winter!
The good news is that concrete pool repairs can be carried out underwater easily, no matter if it is cracks, loose tiles or mosaics, Pebbles or Gunite just to mention some surface possibilities.
The Idea for the Underwater Magic product range has been developed from the need of attaching tiles to the bottom and steps of a concrete swimming pool underwater.
After years of developing Underwater Magic got launched on the market 7 years ago as the underwater swimming pool solution which last for years and years under the impact of swimming pool chemicals
and is used in more than 70 countries around the world in all kinds of climate.
Since the launch of Underwater Magic adhesive and sealant concrete pool maintenance became so much less difficult and inexpensive that the advantages of a concrete pools are convincing people around the world to go for a concrete pool.
The scientific team of Underwater Magic has carried out tests in all kind of pools due to the need of an underwater repair solution for all kinds of pools and the result is:
Underwater Magic adhesive and sealant can be used for all kinds of swimming pools and sanitizing systems. The scientific team is in constant cooperation with pool building materials and pool chemical manufacturers to make sure all swimming pool types existing and coming can be repaired directly underwater and in wet areas as the permanent solution for pool professionals, maintenance teams for commercial and hotel pools and private pool owners alike.
The 24/ 7 technical support team is the only underwater pool repair support team which is available for all customers around the world free of charge to make sure not a drop of water, time or money is wasted when pool repairs are needed. You can reach our support team here
Water is life and everybody acting responsible and doing the swimming pool repairs underwater is doing a vital part of protecting the environment.